360° VR Tour of the Central Library
360° VR (Virtual Reality) images provide a 360° view of the library.
*As it consumes a large amount of data, using a wired LAN or WiFi for viewing is recommended.
*Depending on the viewing environment (browser, OS, internet speed, etc.), there is a possibility that the video may not play properly.
*For smartphones and tablets, please view the screen horizontally.
Video (with Navigation)
With changing the viewpoint and playback speed, you can enjoy the atmosphere of a walk through the library at your own pace.
*If playback does not start, try tapping the play button or refresh the page.
Cute. Commons
Books for Student Use
Academic Books(Law / Economics)
Manusctipt Library
Third Floor

Entrance
News and Journals
Academic Books(Economics / Education / Social Sciences)

Second Floor
Academic Books(Philosophy / History / Arts)
Sun Yat-sen's Writing
First Floor
Academic Books(Language / Literature)
Library Collections
Operation Guide
(Here for the large picture)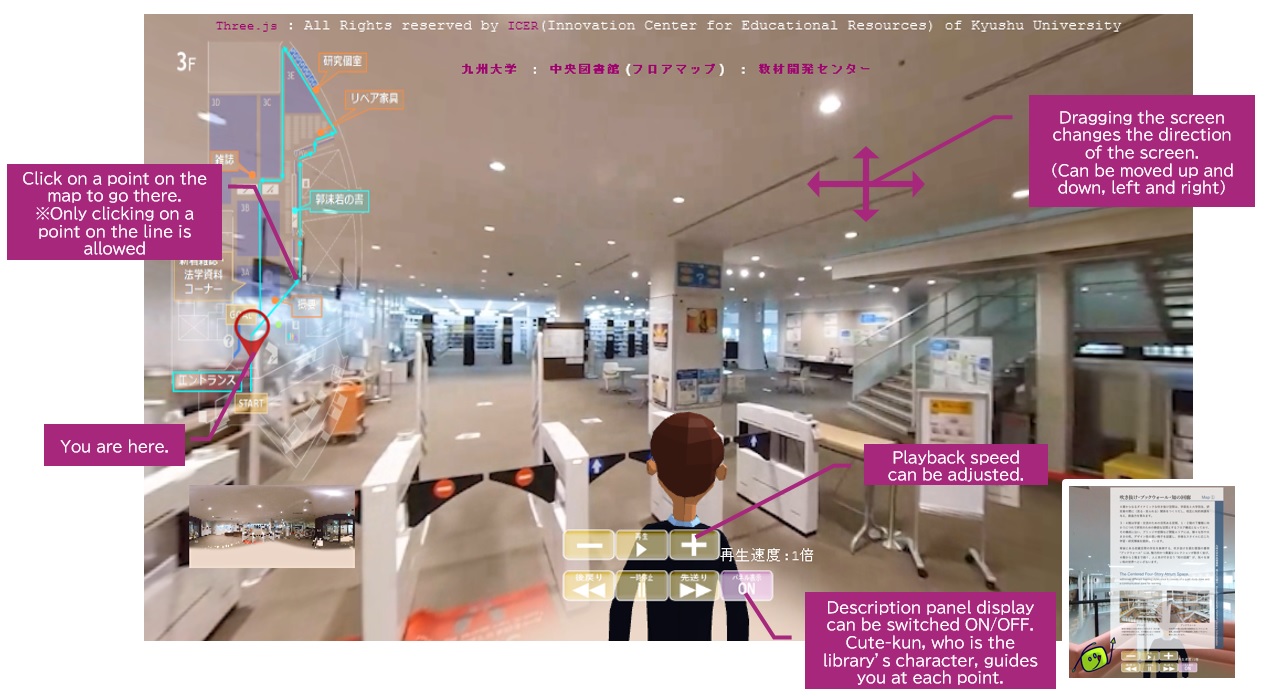 Still Image (Walk-through Version)
By clicking where you want to go, you can walk around the library.
Fourth Floor / Third Floor / Second Floor / First Floor
Operation Guide
(Here for the large picture: No.1 / No.2)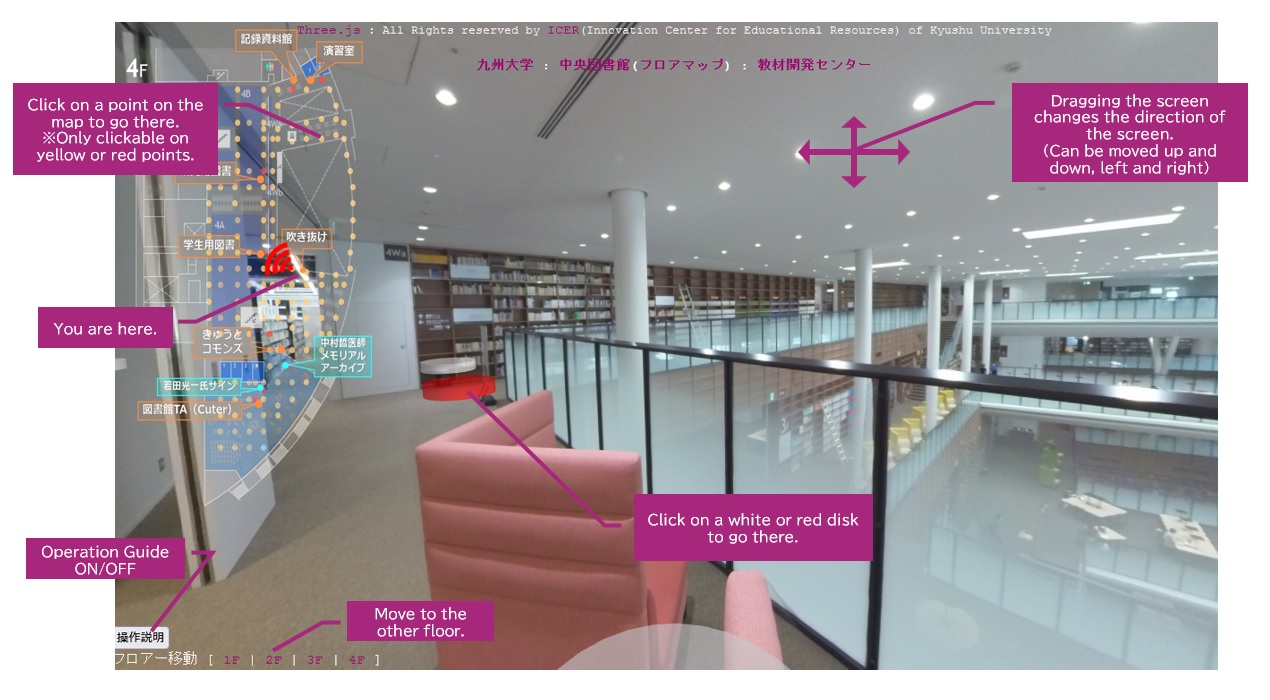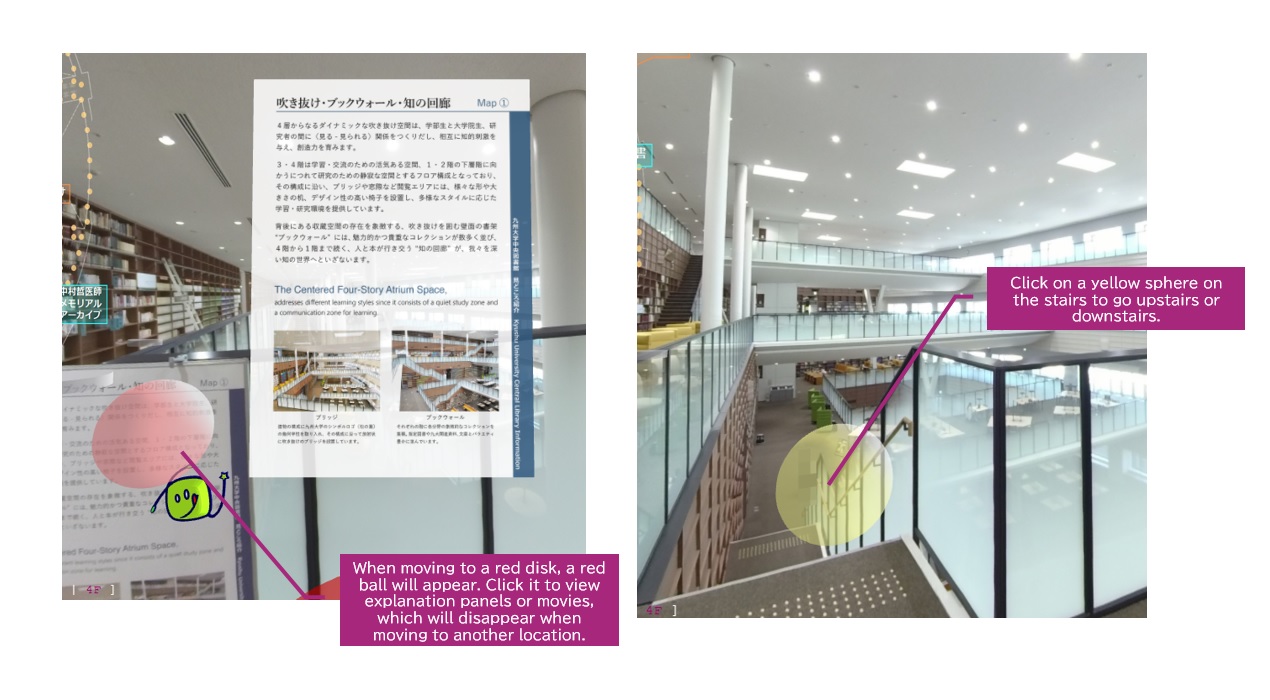 This artwork was created as a part of the Kyushu University 111th Anniversary VISION EXPO project.
Filmed and Edited by the Innovation Center for Educational Resource, Kyushu University.
Special Thanks to Li Yinuo and Kanako Kohara, Graduate School of Human-Environment Studies; Takumi Takeshita and Hikaru Yoshida, Graduate School of Information Science and Electrical Engineering; Sora Nishimura and Osama Khalid Hoshida, School of Interdisciplinary Science and Innovation; Amane Uzawa, School of Letters; Haruka Kawano, School of Law; Tomomi Shoda, School of Economics; Soraki Oka, School of Science; and Ryuki Saiso, School of Engineering.
Submitted: 2022-07-25 | Updated: 2022-08-17 | Total Views: 10,959