The Design Library has a large collection of materials in the arts, natural sciences, engineering and technology, and humanities and social sciences.
Within each section, books are placed separately according to language and size. Japanese books have a black label, and foreign language books have a red label.
If the book you are looking for cannot be found, please check for your call number among the shelves nearby.
Oversized books are placed in the low bookshelves beneath the window.
Collections are located in the Special Collections Room.
・Materials in the Special Collections Room can be borrowed, with the exception of rare books and some materials.
・The Special Collections Room is open on weekdays from 9:00-17:00.
・Please contact the library in advance if you wish to browse or make copies of rare books.
Japanese journals are arranged according to the Kana syllabary(a,i,u,e,o). Foreign journals as well as Japanese journals with alphabetical titles, are arranged in alphabetical order.
【Location】
| | |
| --- | --- |
| 1F | Dissertations / Language Examination Books / Career Development Books / Audio Visual Materials(DVD,CD,LD, Records) / Current issues (Latest 3 years of subscriptions) / Special Collections(Rare books, Lloyd Morgan collections, Old map, Micro Materials etc.) |
| 2F | Books(400 Natural Sciences, 500 Technology & Engineering, 700 The Arts) |
| 3F | Books(000 General Works, 100 Philosophy, 200 History, 300 Social sciences, 600 Industry & Commerce, 800 Laiguage, 900 Literature) / Bunko・Shinsho / Sheet music / Collection of Gallery Catalogs / Materials of Kyushu Institute of Design / Books Written by Faculty / Japanese Periodicals / Foreign Periodicals |
Floor Guides

1F Books area
Dissertations
White paper
Thematic Corners | Language Examination Books, Career Development Books, etc
1F New Arrival Journals
Current issues (Latest 3 years of subscriptions)
1F Audio Visual Materials
DVD,CD,LD,Records
1F Special Collections Room
Rare books
Collections | Lloyd Morgan, World Exposition, etc
old maps, microforms, etc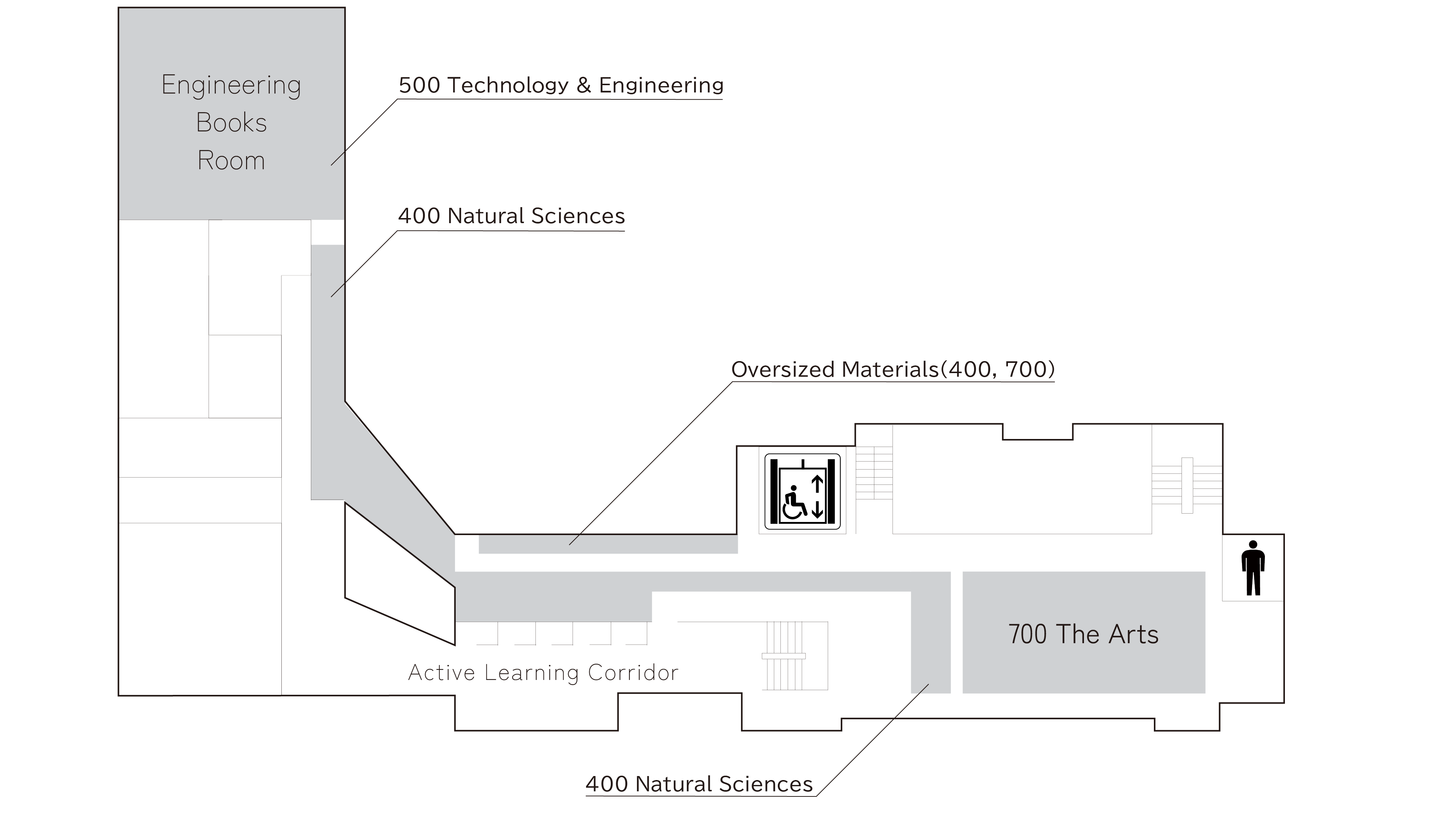 2F Book Shelves
NDC | 400 Natural Sciences, 700 The Arts
2F Engineering Books Room
NDC | 500 Technology & Engineering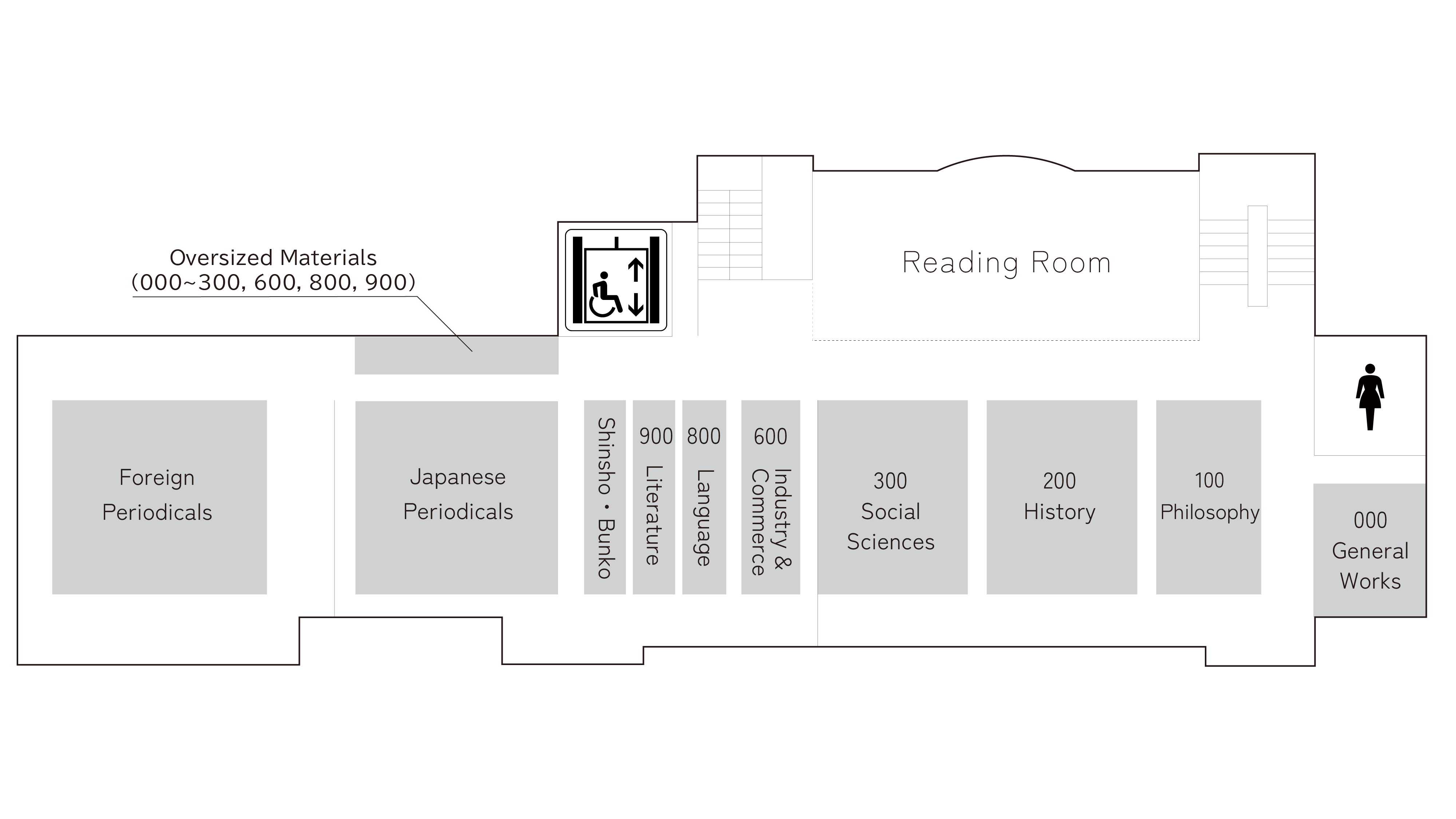 3F Book Shelves
NDC | 000 General Works, 100 Philosophy, 200 History, 300 Social sciences, 600 Industry & Commerce,
           800 Laiguage, 900 Literature
Bunko・Shinsho
Japanese Periodicals
Foreign Periodicals
3F Reading Room
Sheet music
Collection of Gallery Catalogs
Materials of Kyushu Institute of Design
Books Written by Faculty
Ask A Librarian
【Circulation section】
TEL: 092-553-9490
E-mail: tgsabisu@jimu.kyushu-u.ac.jp
【Acquisition & Cataloging Section】
TEL: 092-553-6039
E-mail: tgmokuroku@jimu.kyushu-u.ac.jp
Submitted: 2023-06-16 | Updated: 2023-06-26 | Total Views: 13,824