Workshop : Reference Management by Mendeley
Date
2021.11.29 〜 2021.12.08
開催場所
[Ito Campus] Central Library / Scitech Library
Library holds a workshop for researchers to learn how to use the reference management software,
Mendeley

.
The software will save your time on organizing research papers and formatting references.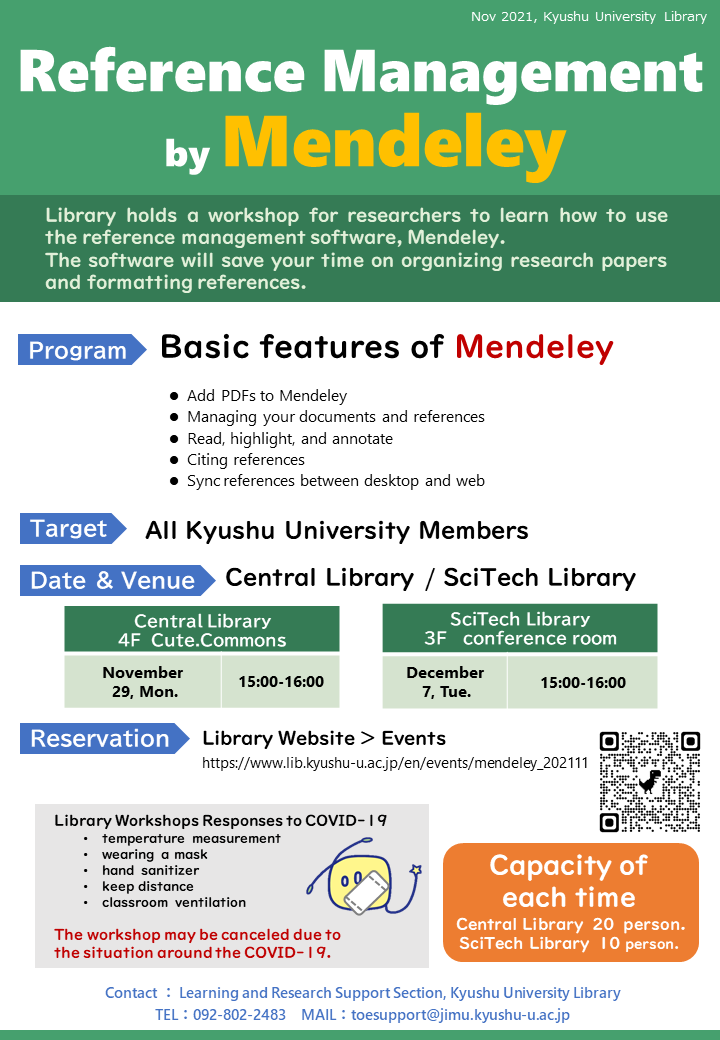 Program
Basic features of Mendeley
Add PDFs to Mendeley
Managing your documents and references
Read, highlight, and annotate
Citing references
Sync references between desktop and web
※Individual consultation is also available after the workshop.
Target
All Kyushu University Members
Date & Venue
Cute.Commons, Central Library 4F
November 29, Mon.
15:00 - 16:00
Conference Room, Scitech Library 3F
December 7, Tue.
15:00 - 16:00
Capacity
【Central Library】Up to 20 person.
【Scitech Library】Up to 10 person.
※We will stop accepting applications when the number of applicants reaches the quota.
Participants Requirement
Bring your own laptop to the workshop.
The laptop has to meet the following requirements in advance.
1.Set up the university Wi-Fi network at your laptop in advance so that you can access to the internet smoothly during workshop.
    "edunet." (English manuals are in the bottom of the page.)
    "kitenet." (English manuals are in the middle of the page.)
2.Create Mendeley account at Mendeley Website and install the software into your laptop PC in advance.
You can install the software from this page.
*This workshop will use Mendeley Desktop instead of Mendeley Reference Manager.
3.Download more than three journal articles which published within 10 years as PDF on the desktop of your laptop PC in advance.
*For Participants
Thank you for your cooperation in the questionnaire.
---
◆Library Workshops Responses to COVID-19
temperature measurement
wearing a mask
hand sanitizer
keep distance
classroom ventilation
The workshop may be canceled due to the situation around the COVID-19.
---
Contact
Learning and Research Support Section, Kyushu University Library
TEL:092-802-2483
MAIL:toesupport@jimu.kyushu-u.ac.jp
Submitted: | Updated: | Total Views: 2,591