Bulletin of the Study Group on the Diary of OKUDA Hachiji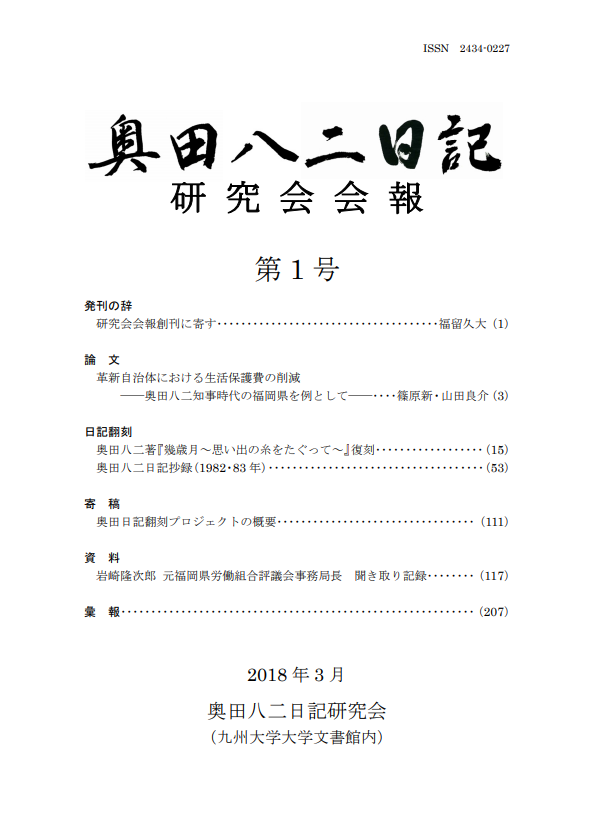 Publication Information
OKUDA HACHIJI NIKKI KENKYUKAI (Study Group on the Diary of OKUDA Hachiji)
KYUSHU UNIVERSITY ARCHIVES
OKUDA Hachii (1920-2001) was a scholar and politician who served as a professor and head of the College of General Education at Kyushu University before being elected governor of Fukuoka Prefecture in 1983, serving three terms, 12 years.
The Study Group on the Diary of OKUDA Hachiji was established in 2016 by researchers and people related to Okuda's administration,  following the donation of the diary and other Okuda materials to the University Archives of Kyushu University, and is engaged in research using the diary reprints and other materials.
The "Diary of OKUDA Hachiji" has been kept since OKUDA's tenure at Kyushu University, and contains detailed descriptions of daily events and his impressions of them. There are few reprints of diaries of scholars and local politicians that have been widely published, especially in recent years.
This journal aims to contribute to the political history of Fukuoka Prefecture and the history of Kyushu University by publishing reprints of diaries and other research results by our members.
本文を見る
詳細
Submitted: 2013-12-17 | Updated: 2023-06-14 | Total Views: 5,005