From the rare materials in the Hama Collection of Kyushu University, we have digitized 190 items, and made them available in the Kyushu University Collections. 
戯単(xi dan) is a playbill and a program in Chinese theater. This is the valuable material that records the actual performance and direction of a play.
The Playbills Collection of the Hama Collection includes playbills, posters and other materials from theaters and movie theater booklets from Beijing and other districts of China from around 1934 to 1939. The following is the list of the Playbills Collection that has been released.
List of the public materials (pdf format)
Example of a playbill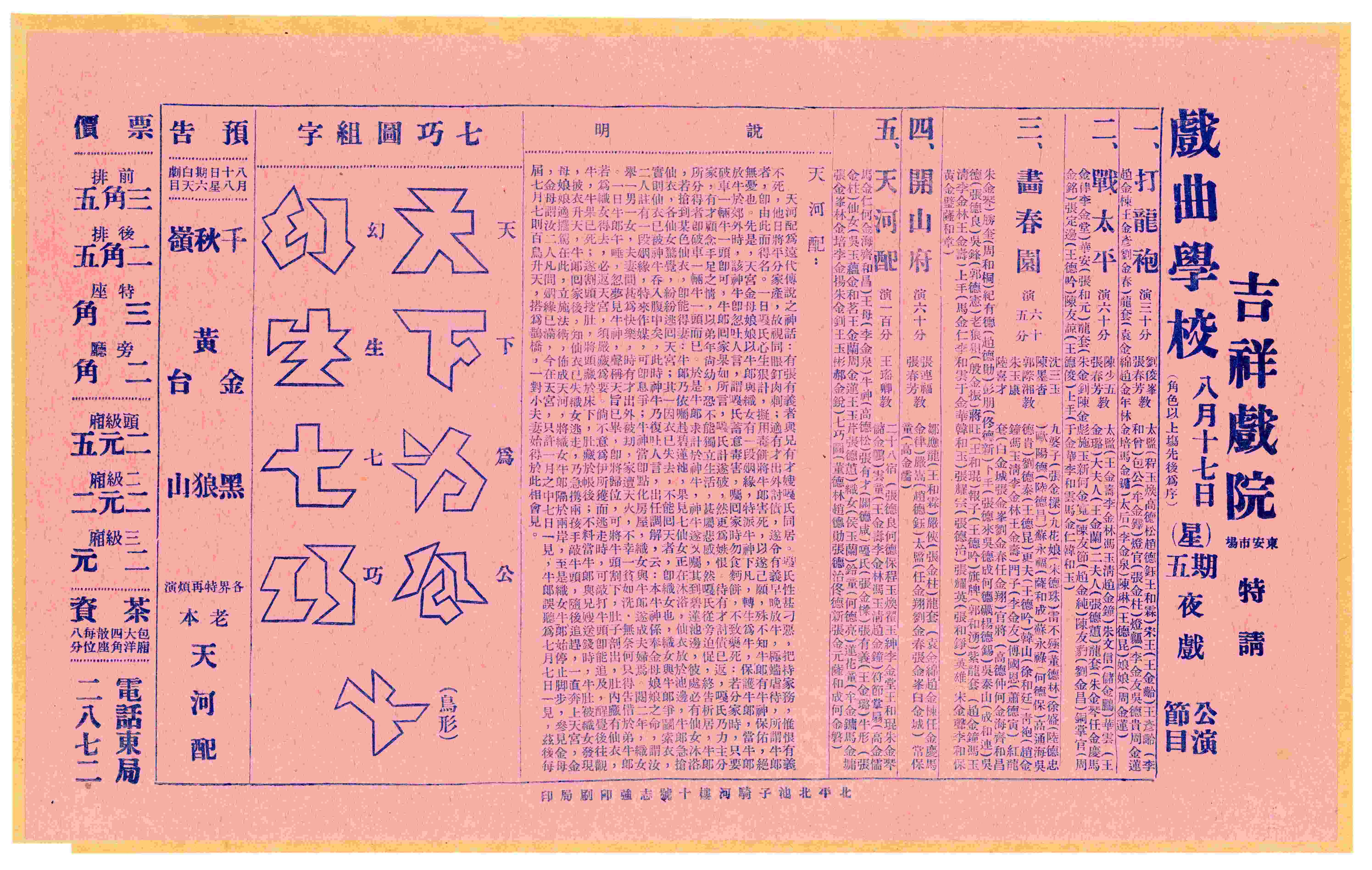 Source: Jixiang Theater, Playbill [August 17, 23, Minguo] Night Play (浜文庫/集 181/62)
Features
For the convenience of researchers, the metadata of the Playbills Collection indicates roman readings, periods, and ages as follows
How to search
You can search the Kyushu University Collections in the following ways.
Reuse of digitized images
All published images can be freely used, including modification and commercial use, free of charge without a prior application for use. Please use all means.
Reference:Reuse of digitized images of rare materials
Reference
Satoshi Nakazatomi, A Chronological Catalogue of Chinese Opera Playbills Possessed in Hama Kazue Collection of Kyushu University Library (Studies in Chinese Literature, 37, pp.1-14)
Satoshi Nakazatomi and Tsuneo Matsuura eds., Hama Bunko Gitan Zuroku: Chinese Playbills Collection (Hana-shoin, 2021)


Acknowledgements

This publication was made possible in collaboration with JSPS Grants-in-Aid for Scientific Research (JP16H03405, PI: Satoshi Nakazatomi), (JP21K00328, PI: Satoshi Nakazatomi).

Contact Information

Kyushu University Library, e-Resource Section
Kyushu University Library, East Zone, Central Library, 744 Motooka, Nishi-ku, Fukuoka 819-0395, Japan
Tel. 092-802-2477
Fax. 092-802-2465
E-mail:toesensyoku@jimu.kyushu-u.ac.jp
Submitted: | Updated: | Total Views: