Date
2016.11.30 〜 2016.12.21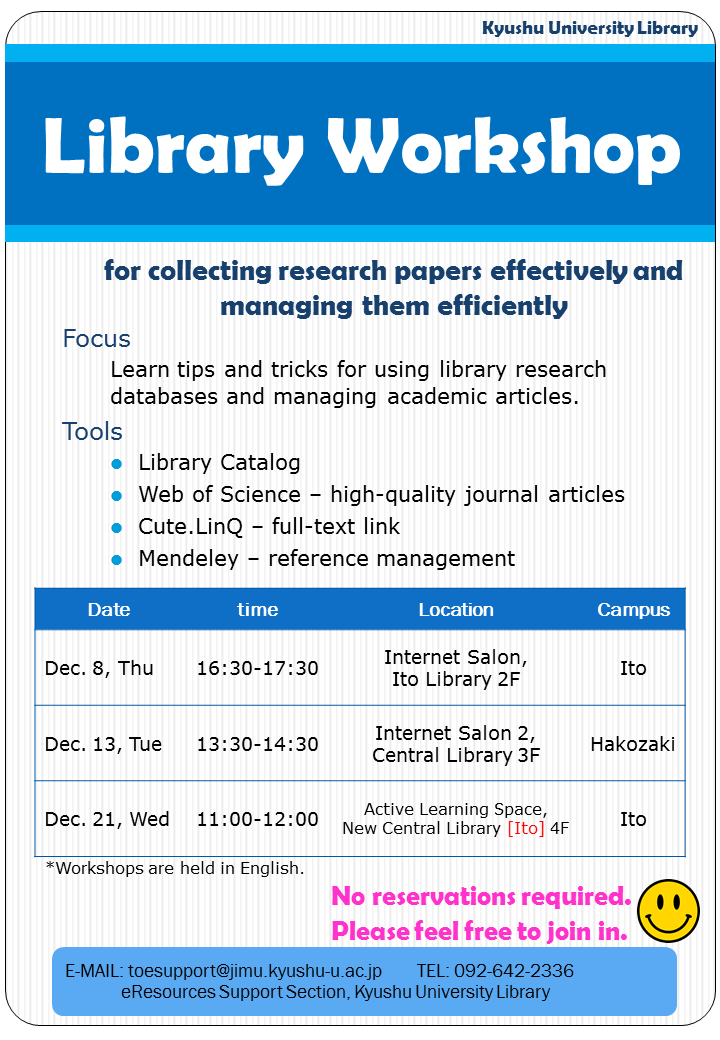 Library offers workshops for collecting research articles effectively and managing them efficiently at Ito and Hakozaki Campus.
Focus
Learn tips and tricks for using library research databases and managing academic papers.
Tools
Library Catalog
Web of Science – high-quality journal articles
Cute.LinQ – full-text link
Mendeley – reference management
Workshops are held in English.
No reservations required. Please feel free to join in.
Schedule
Campus
Date
Time
Place
Capacity
Ito
December 8, Thursday
16:30-17:30
Internet Salon, Ito Library 2F
20
December 21, Wednesday
11:00-12:00
Active Learning Space, New Central Library[Ito] 4F*
30
Hakozaki
December 13, Tuesday
13:30-14:30
Internet Salon 2, Central Library 3F
15
*Map of New Central Library[Ito]
【To Participants】
We appriciate your cooportation for Questionary Survey
---
【Contact Information】
eResources Support Section, Office for eResource Services, Kyushu University
TEL: 092-642-2336
E-MAIL: toesupport@jimu.kyushu-u.ac.jp
Submitted: | Updated: | Total Views: 2,199