Academic Writing + Presentation Workshop
Date
2015.10.21 〜 2015.10.22
This Workshop is Designed for Young Researchers in All Fields!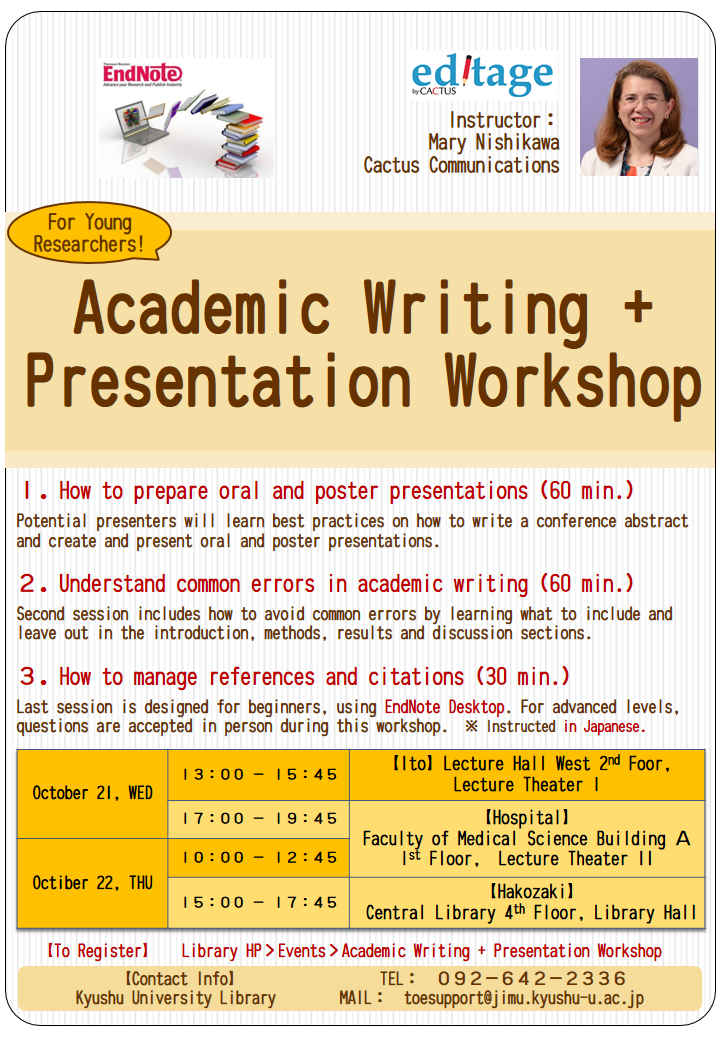 【Content】
1. "How to Prepare Oral and Poster Presentations" (60 min.)     ※Instructed in English
The first session focuses on some common concepts that will help those who are planning to present in English at an international conference. Potential presenters will learn best practices on how to write a conference abstract and create and present oral and poster presentations.
2. "Understand Common Errors in Academic Writing" (60 min.)     ※Instructed in English
In the second session, participants will learn the essentials to start writing their very first paper. These include how to avoid common errors by learning what to include and leave out in the introduction, methods, results and discussion sections.
3. "How to Manage References and Citations" (30 min.)     ※Instructed in Japanese
Last session is designed for beginners, using EndNote Desktop.
For advanced levels, questions are accepted in person during this workshop. (Reservation in advance is preferred)
Schedule
DATE
TIME
CAMPUS
LOCATION
CAPACITY
October 21, WED
13:00 - 15:45
Ito

Lecture Hall West 2nd Foor, Lecture Theater 1

70
17:00 - 19:45
Hospital

Faculty of Medical Science Building A 1st Floor, Lecture Theater II

50
October 22, THU
10:00 - 12:45
Hospital

Faculty of Medical Science Building A 1st Floor, Lecture Theater II

50
15:00 - 17:45
Hakozaki

Central Library 4th Floor, Library Hall

50
【Lectures】
Ms. Mary Nishikawa 

Mary Nishikawa is a Board Certified Editor in the Life Sciences and works as an academic trainer for Cactus Communications, in Japan.
After receiving her MA degree in Biochemistry she worked as a protein biochemist at Hoffmann-La Roche, where she worked in the early stages of AIDS research.
In Nippon Roche Research Center, she designed her career as document reviewer and editor as well as a medical writer.
She also wrote a newsletter and facilitated advisory board meetings for Japanese pharmaceutical companies.
She was also an English journal editor of Medical Tribune academic publications. She is a member of the American Association for the Advancement of Science
Mr. Ryuta Harasawa 
Mr. Harasawa from the vendor of EndNote Desktop assists you for better management tips.
【Register】
Your registration is accepted via the following button.
Submitted: | Updated: | Total Views: 4,973