Due to remodeling of Ito Library, PCs and furniture will be moved or removed as indicated below.
We apologize for any inconvenience this may cause.
Scheduled Date
Area
Moved or Removed
August 6-7
In front of 1F Photocopy Service
6 iMacs: moved to Internet Salon on 2F
2 iMacs: removed
1 iMac for DVD use only: moved to the counter
1F Reference Books
Moved to Current Journals shelves until March, 2016
*A part of them will be moved to closed stacks temporarily.
August 10-11
A part of shelves on 1F
(See drawing below)
Removed
1F Audio-Visuals
Reproduction Equipment: removed temporarily
AV cabinets: moved to a corridor on 1F temporarily (until March, 2016)
・The area below will be off limits to users during August 10-11.
・The Audio-Visuals will not be available until November. Please use an iMac to watch the DVDs.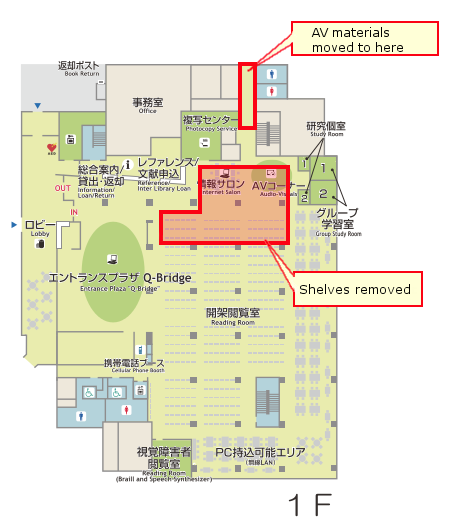 For details of the remodeling, please check the page below.
https://www.lib.kyushu-u.ac.jp/en/ito_remodel
---
[Inquiry]
Plannning & Management Section, Ito Library
TEL: 092-802-2458
e-mail: titokunei@jimu.kyushu-u.ac.jp
Submitted: 2015-07-27 | Updated: 2015-07-27 | Total Views: 2468