Library Workshop Apr. 2019: How to Search for Academic Papers
Date
2019.04.10 〜 2019.04.20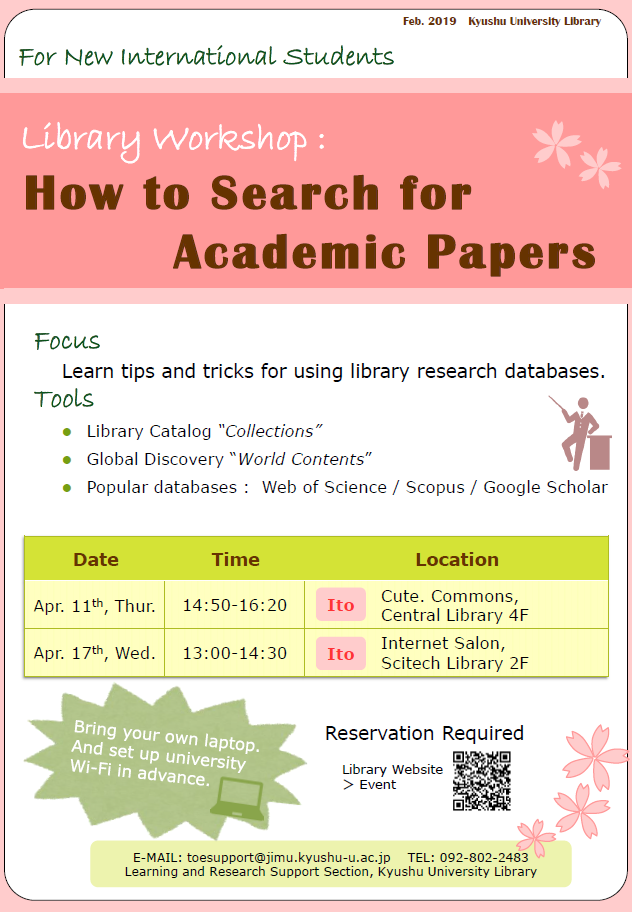 For New International Students
Kyushu University Library holds a seminar "How to Search for Academic Papers."
This semiar is targeted at novice researchers and given in English by a librarian.
Please bring your own laptop to the workshop because we will do a lot of hands-on training.
Focus
Learn how to search for academic papers using the following databases. 
"Collections"  ----  Search for Kyushu University Library holdings
"Web of Science" / "Scopus" / "Google Scholar"  ----  Search for Journal articles
"World Contents"  ---- Search for all academic contents
​※The library also provides seminars in Japanese.
 For more information, see here (新入大学院生向け「文献の探し方」).
Schedule
| Campus | Date | Time | Place |
| --- | --- | --- | --- |
| Ito | April 11, Thursday | 14:50-16:20 | Cute.Commons, Central Library 4F |
| Ito | April 17, Wednesday | 13:00-14:30 | Internet Salon, Scitech Library 2F |
Capacity: 40 participants per session
Registration
Registration is required. Apply this form. >> Registration Form
---
Contact:
Learning and Research Support Section, Kyushu University Library
TEL:092-802-2483 MAIL:toesupport@lib.kyushu-u.ac.jp
---
【To Participants】   
Handouts are available here. >> Handouts
We appreciate your coopertation for Questionary Survey after the workshop.
Submitted: | Updated: | Total Views: 3,867