【Hospital Campus Training Session】(To support EBM in clinical practice) Biomedical Information & Literature Searching
開催場所
Biomedical Research Station 2F Seminor room 201
This Workshop is designed for researchers in Medicine!
It can sometimes be difficult to quickly identify relevant and high quality literature in a short period of time while searching large medical databases, and EBMR can help with an effective search.
EBMR (Evidence Based Medicine Reviews) is designed to help health care workers support 'evidence-based medicine'.
Search methods and results management training will be introduced to help hospital staff understand how to effectively use MEDLINE+EBM Review (Cochrane Library) in literature searches.
【Contents】
★Lecture (30 minutes)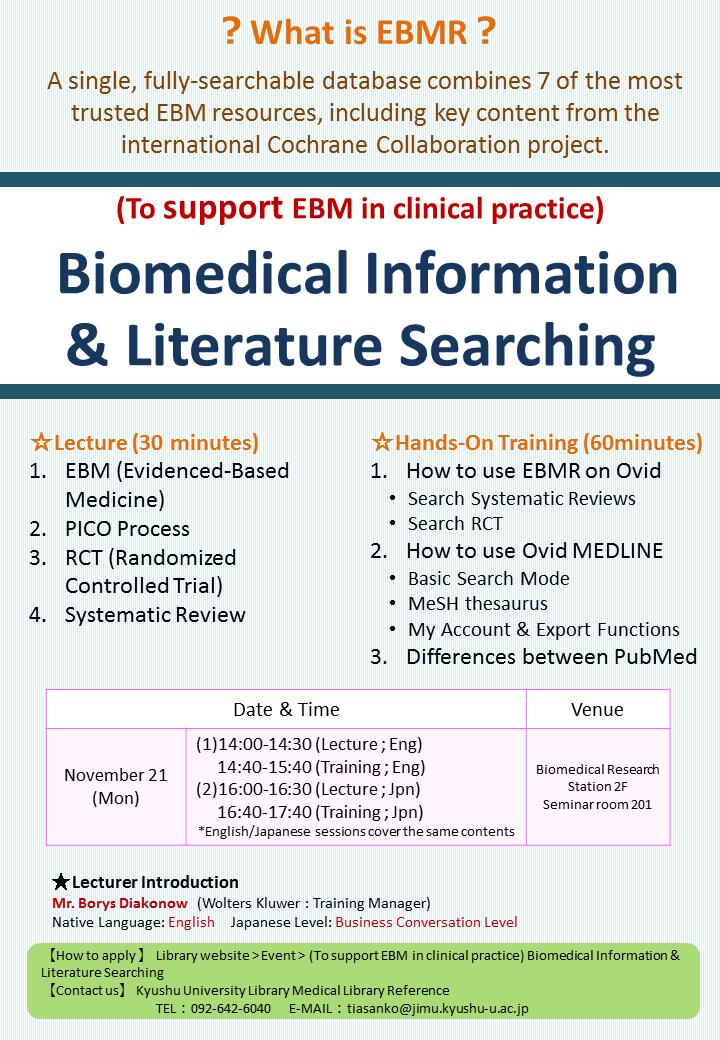 EBM (Evidence-Based Medicine)
PICO Process
RCT (Randomized Controlled Trail)
Systematic Review
★Hands-On Technical Training (60 minutes)
How to use EBMR on Ovid

Search Systematic Reviews
Search a RCT.

How to use Ovid MEDLINE

Basic Search Mode
Advanced Search Mode ; MeSH thesaurus
My Account & Export Functions

Differences between PubMed.
☆What is MEDLINE?
Created by the United States Library of Medicine(NLM).

This bibliographic database's records cover a wide range of health-related and pre-clinical research topics in the fields of medicine, nursing, dentistry and veterinary medicine.

Since 1946, Medline has published abstracts from more than 5,600 biomedical journals from over 70 different countries.
☆What is EBMR(Cochrane Library)?
The Cochrane Library is a database issued by an international medical evaluation project called the Cochrane Collaboration.
Over 9,500 systematic reviews and protocols (ongoing reviews) related to the treatment of various diseases, diagnosis, prevention and rehabilitation have been recorded since September, 2016.
【Lecture】
Mr. Borys Diakonow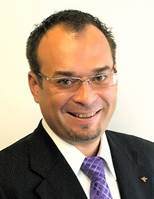 Mr. Borys Diakonow has completed a BSc. in Physiology from McGill University in Montreal and a BA in East Asian Studies from the University of British Columbia in Vancouver, Canada.
After arriving in Japan around 2000, he began his career in corporate training around Business English instruction and other related training and projects.
In his next role, he joined a global educational publisher and, after spending several years as a domestic consultant, was put in charge of internal business development for more than 100 Japanese employees.
he peak of his work involved taking care of internal business development for 14 markets within the Asia Pacific regions.
Borys joined Wolters Kluwer HLRP Japan in 2015, and now enthusiastically provides both on-site and online training to university, hospital and corporate Ovid® users in Japan and Korea.
Native Language: English     Japanese Level: Business Conversation Level
【Date & Time/Venue】
Opening Date & Time
Venue
Capacity

November 21 (Mon)
 

・14:00~14:30 Lecture (English)

・14:40~15:40 Training (English)

Biomedical Research Station 2F Seminar room 201

30

※Kyushu Univ members only

・16:00~16:30 Lecture (Japanese)

・16:40~17:40 Training (Japanese)
Please to fill in the feedback after you've attended. 
>>Feedback form<<
【Reference】
Medical Library Reference Service Section
tel: 092-642-6040
E-mail: tiasanko@jimu.kyushu-u.ac.jp
【Register】
Your registration is accepted via the following button.
Submitted: | Updated: | Total Views: 3,084