Workshop for Chemical Information
Date
2017.06.21 〜 2017.06.22
Workshop for seniors and graduate students in chemistry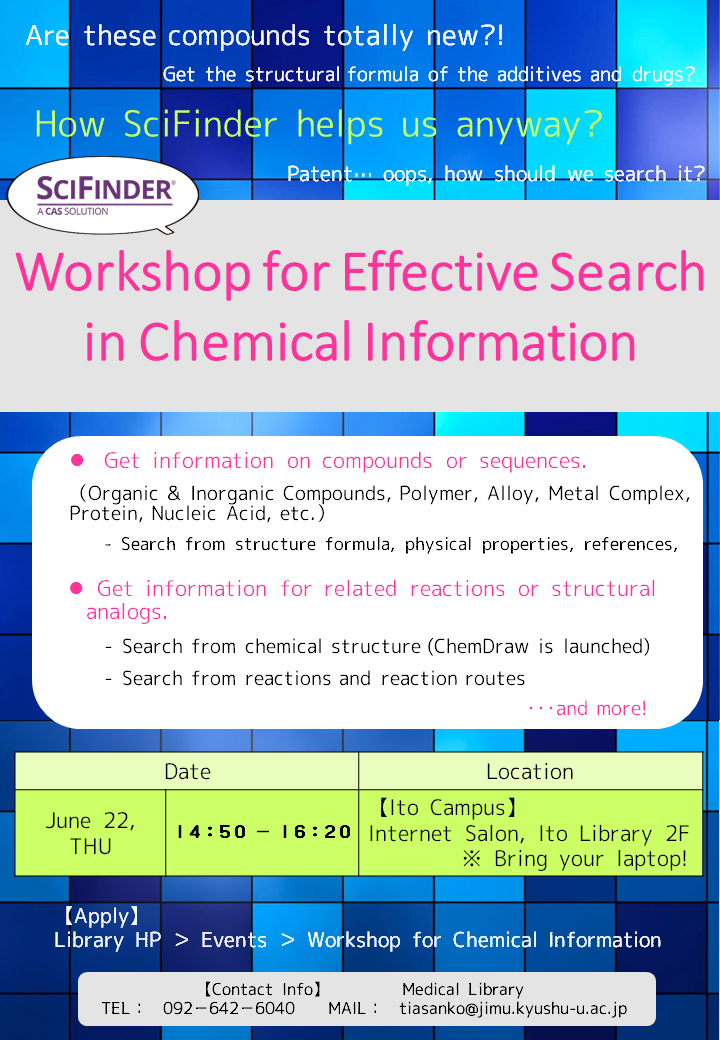 Are these compounds totally new?!
Get the structural formula of the additives and drugs?
Get information for related reactions or structral analogs?
How SciFinder helps us anyway?
Patent... oops, how should we search it?
【Table of Contents】
Get information on compounds or sequences.
(Organic & Inorganic Compounds, Polymer, Alloy, Metal Complex, Protein, Nucleic Acid, etc.)
    - Search from structure formula, physical properties, references, etc.


Get information for related reactions or structural analogs.
    - Search from chemical structure (ChemDraw is launched)
       - Search from reactions and reaction routes

            ・・・and more!
Details
Date
Time
PC
Location
June 22, Thu.
14:50 - 16:20
Bring Your PC
【Ito Campus】
Internet Salon, Ito Library 2F
【Notes】
User Registration
When you access SciFinder for the first time, user registration is necessary.
Make sure you should get your own ID before you come to the workshop.
Registration guide is here(You can register to SciFinder only on campus)
PC
Please bring your laptop PC connected Wi-Fi (kitenet).
【To Participants】
Please answer the questionnaire.
---
【How to Apply】
Click on this button!
Submitted: | Updated: | Total Views: 2,564