ACS on Campus 【I2CNER Hall】
開催場所
I2CNER Hall (744 Motooka, Nishi-ku, Fukuoka-shi, Fukuoka-ken 819-0385, Japan)
[Event Information]
---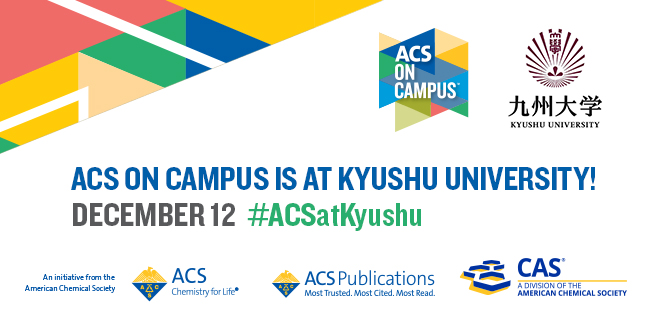 ACS on Campus is wrapping up 2016 in Fukuoka, Japan with an all-star line up of ACS editors. Attend our half-day program at Kyushu University on December 12. You'll hear about the latest innovations in science, learn how to prepare a successful manuscript, and become a stronger peer reviewer.
Our featured speakers include Atsushi Takahara, Senior Editor of Langmuir; Francoise Winnik, Editor-in-Chief of Langmuir; Moon Jeong Park, Associate Editor, Macromolecules; and Yoshiniobu Baba, Associate Editor of Analytical Chemistry.
The event is FREE and open to all researchers and students studying the sciences.
Register
http://acsoncampus.acs.org/events/university-of-kyushu-12-12-2016/ [by December 5th]
Agenda
14:00 - 14:45 Registration and Refreshments in Lobby
14:45 - 14:50 Opening Remarks by Kyushu University
14.50 - 14.55 Opening Remarks by ACS
14:55 - 15:00 Opening Remarks by Moderator
15:00 - 15:45 Keynote Scientific Lectures
15:45 - 16:00 Networking Break
16:00 - 16:45 How To Get Published: Top Ten Tips for a Successful Submission
16:45 - 17:30 Peer Review: How, Why and What Not To Do
17:30 - 18:15 Copyright & Ethics
18:15 - 18:30 Closing Remarks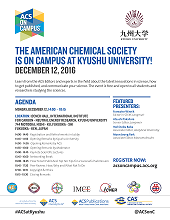 Submitted: 2016-11-24 | Updated: 2016-11-30 | Total Views: 3,086